2015 Affordable Housing General Obligation Bond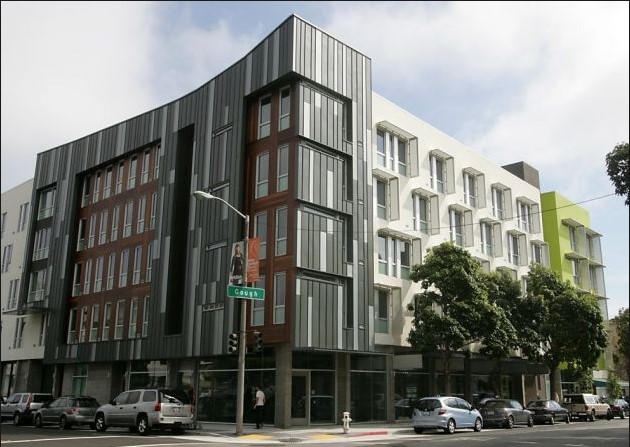 Proposition A General Obligation Bond Documentation:

General Obligation Bond Report

Legal Text of Proposition A

Legislative Digest and Controller's Statement
(from Voter Guide)

Housing General Obligation Bond Report Dec 2016

Housing General Obligation Bond Report June 2017

Housing General Obligation Bond Report Sept 2017
In November 2015, over 74% of San Francisco voters approved Proposition A, a $310 million General Obligation Bond for affordable housing, to finance the construction, acquisition, improvement, rehabilitation, preservation and repair of affordable housing for low and middle income households.
The bond will address pressing housing needs by:
Investing in neighborhoods;
Developing and acquiring housing for a broad population, from families to seniors; transitional-aged youth to single working adults; and veterans to disabled households; and,
Meeting housing needs through a range of activities, including new multi-family construction, acquisition of existing apartment buildings, SRO rehabilitations, down payment assistance for first-time homebuyers, and other efforts that will effectively increase the affordable housing supply.
The 2015 Bond proposal allocates:
$100M
$50M
$80M
   $80M
TOTAL: $310M
Low Income Affordable Housing
Low Income Affordable Housing in Mission District
Public Housing (HOPE SF)
Middle Income programs, including Down Payment Assistance Loans (DALP)
 
FIRST ISSUANCE
On Wednesday, October 19, 2016, the City competitively sold $75.13 million in aggregate principal amount (plus net premium of $327,556) of City and County of San Francisco General Taxable Obligation Bonds (Affordable Housing, 2015), Series 2016F (the "Bonds"). The Bonds will constitute the first series of bonds to be issued from the aggregate authorized amount of $310 million.
The Bonds are rated AA+/Aa1/AA+ by S&P, Moody's and Fitch Ratings, respectively.  S&P, Moody's and Fitch Ratings maintain a rating outlook of "Stable" on the City's long term debt obligations. 
Raymond James & Associates, Inc. was the successful bidder at a true interest cost (TIC) of 2.73%. The final bond maturity is June 15, 2036.
                     Proposed Uses        
Amount
40,600,000
24,000,000
6,000,000
3,803,014
74,403,014
 
148,806
578,180
215,588
111,969
 
75,457,557
Use
Public Housing
Low-Income Housing
Mission Neighborhood
Middle Income Housing-DALP and the Teacher Next Door Program
subtotal, project funds
 
CSA Audit Fee
Cost of Issuance
Underwriter's Discount
Bond Premium
 
TOTAL
PROGRESS TO DATE
Public Housing

The Potrero team acquired a vacant parcel for construction of new relocation housing. Bond funds will pay for predevelopment and construction @ approximately $20 million.
Construction in Progress
Almost $9 disbursed
The Sunnydale team acquired a vacant parcel for construction of new relocation housing. Bond funds will pay for master planning, predevelopment, acquisition and construction @ approximately $21 million.

Construction to commence January 2018
Over $5M disbursed

Low-income Housing

On September 15, 2016 MOHCD formally recommended predevelopment loans for funding for four new multifamily developments that will bring more than 500 new affordable units to the Excelsior, Forest Hill, Mission, and Tenderloin neighborhoods. Through these loans, we anticipate to build apartments for both families and seniors, and include at least 20% of units set aside for homeless and other special needs households. Amongst the four sites, there are proposals for various community serving/public spaces, as well as an ambitious arts space proposal, in addition to the up to 529 apartments affordable to households earning less than 60% of median income. The projects recommended for funding are as follows:

Bridge Housing, proposing 114 units at 4840 Mission St. in the Excelsior, will receive $3 million to redevelop the site of a funeral home

Christian Church Homes, looking to build 150 apartments at 250 Laguna Honda Blvd., will get just under $2 million to build on a lot next to the Forest Hills Christian Church

The Tenderloin Neighborhood Development Corp. will receive $3 million for 122 units at 500 Turk St., a former tire and auto repair shop

Mission Economic Development Agency and TNDC will receive $3 million for 1990 Folsom St., a former baked goods manufacturing plant

Project Updates

4840 Mission - In June 2017, $3,000,000 was disbursed to Borrower to provide a portion of the purchase price for 4840 Mission.

250 Laguna Honda - The developer submitted an Environmental Evaluation Application (EEA) to San Francisco Planning Department for the preliminary proposed project, and is now completing a Physical Needs Assessment and seismic analysis of the structure of the existing church to see if it can be incorporated into the project as adaptive re-use. The developer will conduct a traffic circulation memo as part of the initial environmental review. The existing preschool is now operating independently of the church and anticipates continuing their program in the new building. The architect is working with the developer on two design options, one retaining the church as adaptive re-use and the other demolishing the church. Both design options will be presented to the larger community when the design review process starts near the end of the year. The developer is meeting on a regular basis with the district supervisor and representatives from the adjacent neighborhood association. MOHCD anticipates taking the predevelopment request to Loan Committee in early 2018. This will be the only funding request from the Prop A bond funds.

500 Turk - Predevelopment work continues with the draft Focused Environmental Impact Report scheduled to be published on November 22, 2017. Draft will be heard at Historic Preservation Commission on December 6, 2017 and Planning Commission on January 11, 2017. CEQA approvals expected summer 2018. Construction is expected to commence in 2019.

1990 Folsom - MOHCD acquisition and predevelopment budget were approved by Loan Committee in April 2017. Acquisition funds have been disbursed. Site permit drawings submitted to Planning Department July 2017. Board of Supervisors approved the re-zoning of the parcel to Special Use District on October 24, 2017.

Small Sites Program

Sites renovations are currently underway.

All but one project to be funded by first issuance has an executed loan agreement. (Please see Sept 2017 Report for list of sites acquired)

Middle-income Housing

Downpayment Assistance Loans (DALP) is now fully subscribed for the first issuance of the bond.
Teacher Next Door forgivable loans available now. These loans may be used in addition to the above DALP loans.
15% of Seawall Lot 322-1 (88 Broadway) devoted to middle-income units

Developer selection process complete and architectural work underway.
Construction loan closing estimated for FY 18-19, including $9.5MM for middle-income units.

MOHCD and SFUSD issued a Request for Proposals for Teacher Rental Housing on a site owned by SFUSD on 10/03/17. Predevelopment funding of up to $3MM anticipated in 2018.