Loan Assistance For First Time Homebuyers
Loan application files must be submitted digitaly through the Database of Affordable Housing Listings, Information, and Applictaions (DAHLIA).  Lenders will receive a log-on ID and password after completing MOHCD Lender training.  Supporting documents per Loan Transmittal Form must be an ORIGINAL PDF (no fax or jpeg). Please email sheree.anderson@sfgov.org to confirm application submission. 
The following programs can be used to assist you in the purchase of a first home in San Francisco.
Please click through and read all the information carefully before contacting our office.
FUNDING BALANCES AS OF OCTOBER 2016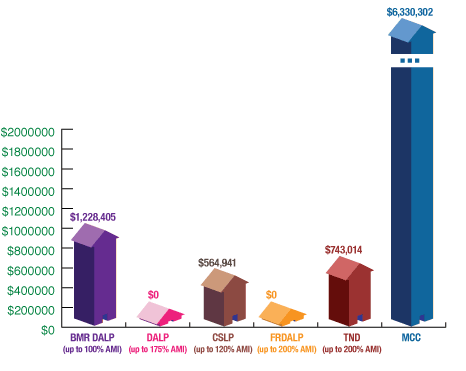 PROGRAM INFORMATION
Please Be Advised that the Mayor's Office of Housing and Community Development is implementing Program Administration Fees (click here for details).
* Please note loan officers named on loan application forms should match loan officers named on the Final Mortgage Loan Application (form 1003).  See MOHCD Participating Lender List.