Loan Assistance For First Time Homebuyers
Due to overwhelming demand and many successful first time home buying purchases made possible with the City's down payment assistance programs, all DALP funds have been depleted, unless otherwise shown in the chart below.  Funds will be replenished next fiscal year by July, 2017.  MOHCD encourages you to be prepared; attend homeownership counseling, consult with your realtor, talk to a participating lender, and build assets sufficient enough for your required 5% down payment, closing costs and 3 month reserves.  We look forward to receiving your loan application.  Please also check out the active program links below, including the Mortgage Credit Certificate Program, BMR Ownership and BMR Rental programs.  Thank you for your support of the Mayor's Office of Housing First Time Homebuyer Programs!
Loan application files must be submitted digitaly through the Database of Affordable Housing Listings, Information, and Applictaions (DAHLIA).  Lenders will receive a log-on ID and password after completing MOHCD Lender training.  Supporting documents per Loan Transmittal Form must be an ORIGINAL PDF (no fax or jpeg). Please email sheree.anderson@sfgov.org to confirm application submission. 
The following programs can be used to assist you in the purchase of a first home in San Francisco.
Please click through and read all the information carefully before contacting our office.
FUNDING BALANCES AS OF FEBRUARY 2017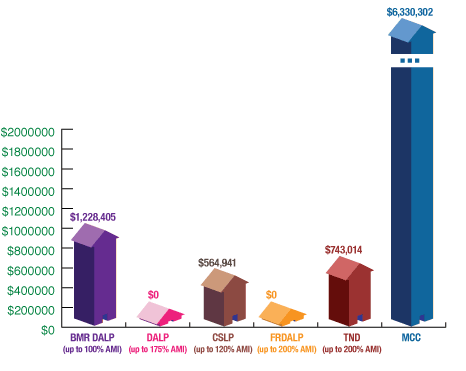 PROGRAM INFORMATION
Please Be Advised that the Mayor's Office of Housing and Community Development is implementing Program Administration Fees (click here for details).
* Please note loan officers named on loan application forms should match loan officers named on the Final Mortgage Loan Application (form 1003).  See link for for Participating Lender List.